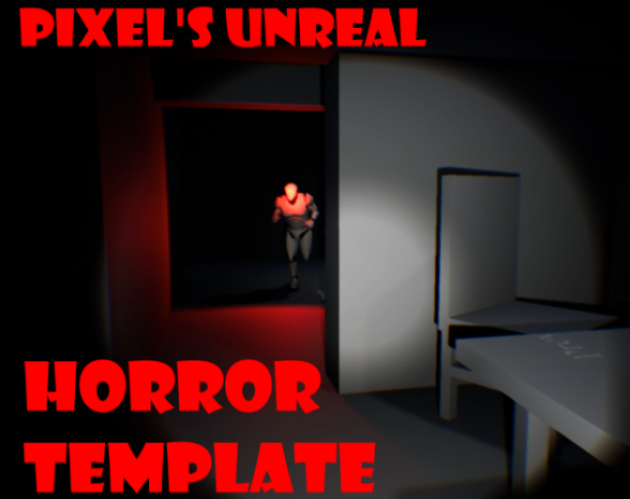 Horror template for Unreal Engine 4
A downloadable asset pack for Windows
It has basic things you need to make your own horror game!
In Unreal Engine
Supported engine versions: 4.23+
(some below this version might also work(not tested))
Features:
-Walk/Run
-Flashlight toogle on/off (with sound)
-Smooth camera turn
-Walk/Run head bobbing
-Custom adjusted PostProcessingVolume for dark rooms
-Bot (that roams around and chases you when he sees you)
-Pre made level that showcases this template
Video on this page showcases the template

Purchase
In order to download this asset pack you must purchase it at or above the minimum price of $2 USD. You will get access to the following files:
Horror Template.rar
640 MB
Comments
Log in with itch.io to leave a comment.
how to I add it to my game?
You have to drag all files from content folder to content folder of your game
I'm just starting out so I'm confused could you make a tutorial or go more into depth?
it doesnt show it as an add on
After 1:23 it shows from where to where you have to copy stuff, but for you, you should probably copy everything from content folder, or just copy what you need, but be careful to not replace if you already made some stuff on your project
Thanks a lot!
Only thing missing is a actual mesh for the enemy and not just the default thingy. Love the sounds!
Thank you :), you can put your own mesh, its made like this so it looks professionaly
Hey Man!
I made my own game during the last month with your Template. I just have one giant issue which is the fact that it always say "preview" on shadows... Is this normal? Can I fix it anyhow?
Please Help me bc this really destroys the whole game right now...

Edit: you can btw see the "preview" text on some of the pictures on this website if you dont know what i mean.
Hey, thank you for using my template :), cant imagine what you made with it, its always cool to hear pple making games with my template. So the preview problem, this thing is onily in unreal engine, like preview of ur game in progress, so when you package the game it will not be there in the game, but onily in the engine as ur making the game